Santa's Little Schleppers

December 17, 2007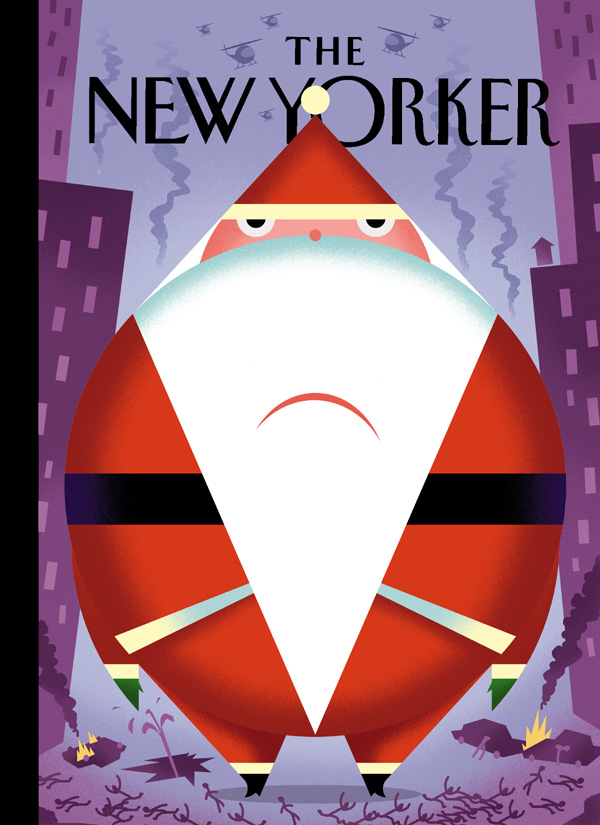 This was actually an alternate version of an idea I submitted during Christmas 2006 -- an entire year earlier. In the original version, I showed a huge, looming Santa figure amidst the carnage of midtown Manhattan (fires in the streets, helicopters hovering, people in frenzied panic, etc). The title of the piece was "He's Baaaaack". It was one of those color "sketches" that I'll do from time to time -- an almost finished piece of digital color art -- but often this is the most comfortable manner in which to work (especially when I'm trying to channel everyone from A.M. Cassandre to Jean Carlu, from Herve Morvan to Paolo Garretto in a single image).
I'm not sure why Françoise wasn't keen on the original idea, but she did like the power and design of the image, so we played around with it and felt with people mindlessly milling about with Christmas packages, it might work. I did the new version, we submitted it to New Yoker Editor David Remnick, but he didn't give it the go-ahead. A year later, Françoise called and asked me if I still had the piece (which I had long forgetten about), and this time when we submitted the cover to Remnick, he approved it.
I felt then (as I do now) that there wasn't a heck of a lot of an idea behind the cover, but that it looks pretty like a mid-20th Century European poster -- the symetrical characterization of th Santa figure, the coarse digital contrasting intended to resemble the spatter of paint from a toothbrush, the almost caricatured drop shadow against the buildings that helps "pop" the sneering Santa into the foreground. Lisa, Françoise's assistant at The New Yorker, called to ask if I had any thoughts on a title for the piece, which is usually a sign that the cover is headed to the printer. Françoise and I had referred to the image as 'Santa's Little Helpers' a year earlier, but now it didn't seem right.
I fired off a list of pretty lame titles:
Santa's Little Schleppers
Let Them Schlep! Let Them Schelp! Let Them Schelp!
Schlep The Halls
The Elf Days Of Christmas
Santa's Little Elfers
I didn't know until the magazine came out three days later that The New Yorker went with one of my faux-Yiddish lines -- 'Santa Little Schleppers'.
Oi, Vei!
---