S.S. Beach Cottage

(Unpublished: Intended for August 2006)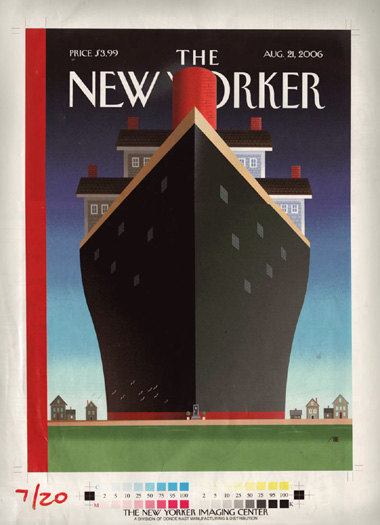 No, it never ran, but I consider that nothing more than a technicality -- and this my first New Yorker cover (to see my official New Yorker cover debut, click here).
If you look at the proof, it was scheduled to run on August 21, 2006 and in fact when I visited Françoise at The New Yorker that summer, I was pleased to see it pushpinned to her big planning wall,. Why is was never published is a mystery to me, but when you consider that The New Yorker puts out 50 cover a year (and 7 of those are by Barry Blitt!), you can appreciate what a narrow window that is.
Getting a New Yorker cover, that seems to be a feat in and of itself, so while I wish this piece had been seen (I still consider it one of my stronger cover ideas), it's nice to have the framed proof sheet (as well as getting paid for doing it).
As explained on the Undercover New Yorker home page, the piece is an unabashed allusion to A.M.Cassandre and when she saw the piece, the only thing Françoise asked me to change was the siz of the little cottages alonside the huge oceanliner/mansion (she wanted them a little bigger).
There was no sketch for the cover submission -- this was it -- and I showed her final, color art for the piece because I knew that would be the best way for me to "sell" her on the idea.
What I love about Françoise's cover design is how she's obstructed The New Yorker masthead. It's something I would have when submitting the piece to her had I not been concerned that she'd look at it and think "who'd this guy out of nowhere submitting stuff to us AND obscuring our masthead?". Yes, Françoise is an icon, but she's the sweetest person you'd ever meet -- and not a raving tyrant bone in her body.
---