I guess there's a time for hard-hitting and scathing, a time for decorative and non-commital -- at least when it comes to a New Yorker cover.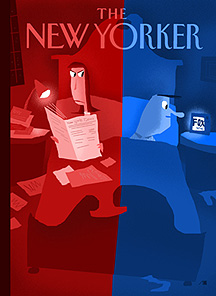 When asked in mid-September by Françoise Mouly to submit ideas for the big Politics 2008 issue scheduled to run a month later in October, it became immediately apparent to me that creating a clever cover based on the some timely nuance within the campaign was going to be impossible. Trying to predict where things would be politically in October would have also been unwise -- and too risky to incorporate into a cover image. You almost had to a approach the challenge like a politician -- fence-straddling the entire way.
Still, it seemed to me that I might be able to create a compelling graphic employing the traditional anamorphic for both political parties -- the republican elephant and the democratic donkey. I worked up a color sketch in which the two characters were locked in stern stares -- and image that had the weird effect of looking almost like a singular, Picassoesque beast.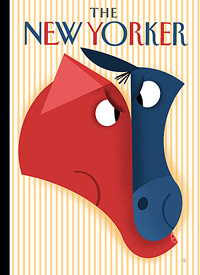 The 'Face Off' cover was what I first submitted to Françoise, but then I started thinking about other concepts that might work as covers. I worked up an image of a husband and wife in bed -- split by their party affliation and their research material (she The New York Times, he FOX News), a pumpkin-centric design showing Obama and McCain on a basketball court, and even a pretty cyncial design showing a racist red state voter in a booth. These and other designs were rejected -- and probably rightfully so -- though I did think the image of the Alaskan eskimo unable to cast his vote for Palin due to global warming (the title of the image was 'The North Poll').
Informed that my 'Face Off' image would be the cover of the Politics 2008 issue of The New Yorker, only a couple minor changes were requested. While both Françoise and I liked the yellow striped motif in the background because it gave the image a carnival sensibility, others did not -- so I was asked to alter that somehow. It was suggested that the "strap" -- the vertical left side bar that traditionally always appear on the cover of the magazine -- be changed to red, white and blue like the masthead type. Finally, a couple New Yorker editors also felt the elephant's ear looked as if it belonged instead on a pig.
The ear was changed and made to "look floppier" -- not unlike McCain's campaign.
---
Watch the video and see this New Yorker cover develop before your eyes. For more, please visit this link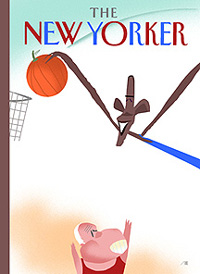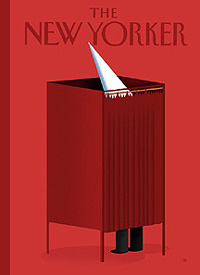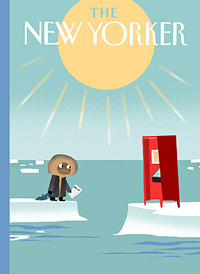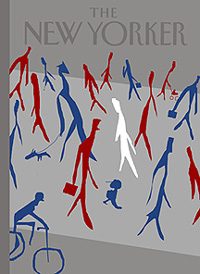 A smattering of other Election 2008 cover ideas that were submitted -- and rejected. 1: Full Gourd Press, 2: Isolation Booth, 3: The North Poll, 4: Undecided