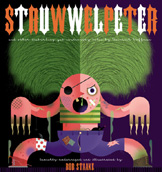 The Struwwelpeter Stories
All artwork and translated textual adaptation is © copyright 2005 by bob staake -- all rights reserved
Help get the Struwwelpeter word out! Mention us on your web site or blog!
About Bob Staake (Illustrator)
Known for his colorful, high-energy drawing style, Bob Staake's humorous illustrations and cartoons appear in everything from magazines to books, animation to greeting cards, toys to fabrics, advertising to newspapers, cereal boxes to CD-ROM games.

His clients have included Time Inc, McDonald's, American Express, Sony, United Airlines, MTV/ Nickelodeon, Sports Illustrated For Kids, Ralston Purina, Hallmark Cards, Kenner Toys, The Washington Post, AT&T, Sega, TWA, Dr.Pepper, The Chicago Tribune, Good Humor, Warner Books, Kellogg's, Cartoon Network, Turner Broadcasting, The Wall Street Journal, Netscape, Forbes, Simon and Schuster, The Ren and Stimpy Show, MAD, Children's Television Workshop, Blockbuster Video, Disney, Anheuser-Busch, Doubleday, Klutz Press, Hershey's, Target Stores, Miami Herald, Los Angeles Times, The New York Times, Fleishman-Hillard, DMBB, and countless others.

He has authored and/or illustrated over 40 books, including Headlines (written by Jay Leno, illustrated by Staake), Hello Robots, The Complete Book Of Caricature and The Complete Book Of Humorous Art (both authored by Staake).The recipient of numerous awards, Staake recently won the National Cartoonist Society's coveted 'Reuben Division Award' as Best Cartoonist in the category of Newspaper Illustration.

Inspired and confused as a child with the bizarre, strange and nightmarish stories in Struwwelpeter, at the age of 47, Staake decided to revisit Heinrich Hoffmann's classic book by visually reinterpreting it.

"When I was given the book as a kid", says Staake, "I didn't know if it was a joke or not, but my German parents weren't laughing. The illustrations and stories just creeped me out beyond words. That I would be lucky enough to give my own take on these ten classic morality tales for children is truly a dream come true, and the fact that Fantagraphics would take on such a politically-incorrect title in 2005 just adds to the strangeness of it all."

Staake resides and works in Chatham, Massachusetts, in a 200-year-old house that's 300 yards from the Atlantic, but is only inhabited by 100 ghosts.

>>> Pixel Surgeon asks Bob Staake what prompted him to re-examine Struwwelpeter

"Bob Staake (is) one of the most dynamic, original, colorful and humorous cartoonists working today."
- - The Washington Post


"Staake's illustrations (are) a stylistic collision of Russian constructivism and pop art, explode with energy playing off of basic geometric shapes and angles and swimming in saturated colors."
-- Publishers Weekly


"Staake's (work is) notable for the sophistication of its graphic design."
-- American Library Association



"Bob Staake's modern, crisp illustrations ... practically jump off the page."
-- Publishers Weekly
"Staake's art is deceptive -- it looks simple, but one still finds new things in the illustrations after over a hundred readings."
--- BoingBoing.net
About Dr. Heinrich Hoffmann (Author)
The following account is written by Hoffman and explains ho he came to write 'Struwwelpeter'
"Towards Christmas in the year 1844, when my eldest son was three years old, I went to town with the intention to buy as a present for him a picture book, which should be adapted to the little fellow's powers of comprehension. But what did I find? Long tales, stupid stories, beginning and ending with admonitions like 'the good child must be truthful' or children must keep clean' ect. But I lost all patience when I found a folio volume where a bench, a chair, a jug, and many other things were drawn and under each picture neatly written: 'half, a third, or a tenth of the natural size'". A child, for whose amusement you are painting a bench, will think that a real bench; he has not and need not have an idea of the full size of a real bench. The child does not reason abstractly.
That evening I nevertheless brought home a book, and handing it over to my wife, said "There is what you wished for the little one". She took it, calling out rather amazed "Well, that is a note-book with blank leaves" - "Just so, but we are going to make a book out of it". And it happened thus: I was then obliged to practice in town where I was often brought into contact with children. Now it certainly is a difficult thing for a Doctor to make their little ones from 3 to 5 years feel at their ease with him, because when they are in good health, the medical man and the chimney-sweep are very often made bug-bears of. 'My dear, if you are naughty the chimney-sweep will carry you off' or 'Child, if you eat too much, the Doctor will come with his nasty medicine'. The consequence is, that the little angel, when ill, begins to cry violently and to struggle as soon as the physician enters the room. On such occasions a slip of paper and a pencil generally came to my assistance. A story, invented on the spur of the moment, illustrated with a few touches of the pencil and humorously related, will calm the little antagonist, dry his tears, and allow the medical man to do his duty.
In this manner most of Struwwelpeter's absurd scenes originated. Some of them were later inventions, sketched in the same impulsive manner, without the least intention on my part of literary fame. The book was bound, put under the Christmas-tree, and the effect on the boy was just what I expected."