Summary:
Award-winning author-illustrator Bob Staake has created a rollicking picture book about a boy and his most unusual pet!

Most pets are cats and dogs, but what happens when a boy wants a different kind of pet, one that doesn't meow or bark? Bob Staake's exuberant tale of a little boy and the pet of his dreams will appeal to anyone.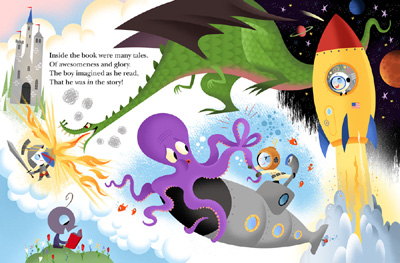 Sample image from book (above)
The New York Times:
This boy is delightfully well-spoken, and distinctly precocious; children listening to My Pet Book or reading it to themselves will most likely see him as a kindred spirit, or at the very least find his quirks amusingMy Pet Book offers visual delightsThough Staake's style is bold and graphic, many of his pages are crowded with funny detailsIt's a goofy, good-natured adventure that should appeal to any book lover-even one who likes kittens and puppies.
Publisher's Weekly
Staake, whose wordless Bluebird depicted a lonesome outsider, introduces a happier child, albeit one allergic to cats. "I want a pet that's easy!" the boy declares, so his pleased parents steer him to a bookshop, where he chooses "a frisky red hardcover." Staake's bouncy hero resembles a Photoshop version of Crockett Johnson's Harold as he casually walks his obedient book across a chaotic city bridge, oblivious to the mischief of real dogs and cats. In the only spread to picture him reading, he imagines battling a fairy-tale dragon and a purple octopus, reveling in "tales/ Of awesomeness and glory." All is well until his book goes missing, and the family maid fears she has given it "to charity" while cleaning house. There are some missteps (like that anachronistic, uniformed maid), and a few stanzas include words and phrases that feel like filler ("Most pets, you know, are cats and dogs/ Go out and take a look./ But there's a boy in Smartytown/ Whose pet is... a little book"). The appeal of a good book gets lost in the fray, despite much entertaining stage business in Staake's images. Ages 3­7. (July)