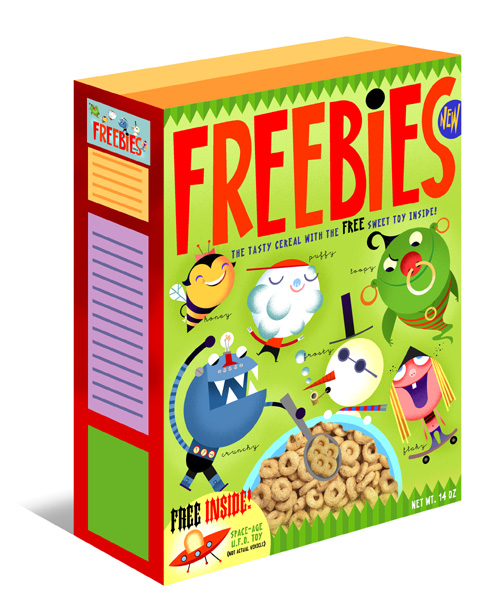 YOU can help FREEBIES become a real-life, big-time, ultra-cool national cereal brand!
Got five seconds? Let us know what you think!
FREEBIES harkens back to the glory days of children's breakfast cereals when colorful and quirky characters were common in supermarket aisles -- and a cool toy could be found inside each box.
The FREEBIES are six crazy, kid-pleasing characters, each boasting a typical breakfast cereal trait -- Crunchy, Frosty, Loopy, Honey, Puffy and, of course, Flaky -- and their ongoing storyline teaches kids to think and act freely while doing good deeds.
Even the free toy that comes inside each box of FREEBIES includes instructions that may not make the toy work any better, but can make a child smile and think (1: Save a bug today, 2: Give someone a high-five, 3: Don't eat ice cream too fast or your head will feel like a hairy snowcone, etc)
FREEBIES is a cereal that recognizes that today's kids and parents are smart -- and will respond to a healty product that entertains and teaches something of value in a small, yet goofy and entertaining, way.