Nothing delights us more than when we read flattering reviews of The Red Lemon. We'll add some of the more special ones as they trickle in.
---
STAAKE, Bob. The Red Lemon. illus. by author. unpaged. CIP. Random/Golden
Bks. Sept. 2006. Tr $14.95. ISBN 0-375-83593-8; PLB $16.99. ISBN
0-375-93593-2. LC 2005009854.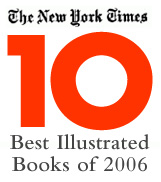 It's good to be different. That's true in science and art, and it's the message at the heart of Bob Staake's latest book, "The Red Lemon." His other works include the goofy "Hello, Robots" and the comically dark, decidedly not-for-kids picture book "Struwwelpeter and Other Disturbing Yet Cautionary Tales by Heinrich Hoffmann." "The Red Lemon" lacks the grotesqueness of "Struwwelpeter" (no burning flesh in this one), but the illustrations share a bright, funny and relentlessly geometrical style.
"The Red Lemon" tells the tale of jolly Farmer McPhee, a perfectionist who one day finds a red lemon, a freak of nature, in his pristine orchard. He hurls the offending fruit onto a nearby deserted island. Little does McPhee know that he has just planted the seed that, long after his own orchard has gone to weed, will be the foundation for the thriving tourist destination Red Lemon Island. We see the island 200 years in the future, complete with its own Air Red airline and Bitter End discothèque. Young children will enjoy the bouncy, rhyming prose, as when a horrified McPhee exclaims, "When people bite into a fruit that they chew, they count on it being the right-colored hue!"
But Staake's quirky and engaging art is the book's true protagonist. Staake portrays two worlds: McPhee's simple, orderly farm and the funky, futuristic Red Lemon Island. McPhee's realm is built almost entirely from symmetrical shapes - circles for his roly-poly body and for each tree in his vast orchard, and rectangles for his boxes of perfect fruit. Most images of the lemon trees are symmetrically divided with a different shade of green on each side. Busy darker green swirls inside the trees provide dimension. By contrast, the island is a hip, angular metropolis; though its inhabitants still have impossibly circular heads, their bodies are stylishly lithe and always on the go. Where McPhee lived a simple life among circles and right angles, the island is exploding with colorful buildings squished and stretched into unlikely distortions.
For readers who doubt the artistic advantages of the digital medium, it's time to reconsider. Staake's entertaining Web site, BobStaake.com, reveals some of his trade secrets. Working digitally, he can adjust background shading or produce a grove of identical lemon trees with a few clicks of the mouse. (The same lemon tree even made a sneaky appearance in "Hello, Robots.") The effect is an über-orchard of flawless fruit as far as the eye can see.
"The Red Lemon" is a buoyant read reminiscent of Dr. Seuss, but with a modern panache. The sad part, of course, is McPhee's short-sightedness in tossing the odd lemon away. But perhaps the uncomplicated McPhee would not have liked a red-lemon world so much anyway.
- The New York Times Book Review
See all 10 of The New York Times Best Illustrated Books of 2006
---

Farmer McPhee delights in his grove of lemon trees. Each perfect lemon is tasty, tart, and, most importantly, yellow. His pride fairly bursts off the page, as does his outrage when he discovers a red lemon on one of his trees. He cannot imagine a world in which lemonade is red and cupcakes are crimson. In a fit of anger, he hurls the offending fruit across the sea to a distant island. Two hundred years pass and McPhee's prized lemon tree groves are replaced by weeds. But on the island, a vibrant city has grown up around a grove of red lemon trees. As it turns out, these lemons are six times sweeter than yellow ones, and now people travel across oceans and seas to get them. Bold, enticing illustrations dominate the pages. Staake creates a fun, dynamic world reminiscent of Dr. Seuss's in its sweeping arcs, bright colors, multicolored cartoon people, and effortlessly rhyming text. The circles used to create Farmer McPhee and his trees give the book a polished, graphic-arts feel.
-School Library Journal
---
Wildly colorful pages filled with geometrically shaped figures tell the tale of Farmer McPhee and his lemon orchards. The rhyming story begins conventionally, with an ode to tart, yellow lemons and their many delicious uses. One day Farmer McPhee, as round as his trees, is shocked to spy a red lemon. Imagining terrible havoc created by a differently colored lemon, McPhee quickly throws it over to an island. Two hundred years pass. The farmer's land is gray, sere and empty. Meanwhile, the island has become a wonderland of red lemons. A quirky city has evolved with an economy based on these fabulously sweet red lemons, attracting people from all over the world. Staake uses a wide color palette with exaggerated shapes and people; his geometric forms are vividly cartoonish and exuberant, yet deceptively simple. Imaginative use of perspective and the multihued, varying sized text add flair. The energetic city is filled with visual and verbal humor, and the important message is subtly conveyed. Pair with some lemonade and perhaps a muffin, and enjoy the depth of meaning behind this computer-enhanced visual feast. (Picture book. 4-9)
- Kirkus Reviews
---
If you're interested in interviewing author/illustrator Bob Staake about The Red Lemon, please contact his literary agent, Gillian MacKenzie
What The Critics Are Saying About Bob Staake, Author and Illustrator of "The Red Lemon":
"Young children will enjoy the bouncy, rhyming prose (and) Staake's quirky and engaging art. The Red Lemon is a buoyant read reminiscent of Dr. Seuss, but with a modern panache."
-- The New York Times Book Review
---
Staake's illustrations (are) a stylistic collision of Russian constructivism and pop art, (and) explode with energy playing off of basic geometric shapes and angles and swimming in saturated colors."
-- Publishers Weekly
---
"Staake's (picture books) are notable for the sophistication of their graphic design. Simple enough to hold the attention of toddlers, these colorful, computer-enhanced images are also visually interesting enough to please preschoolers and parents as well."
-- American Library Association
---
"Bob Staake's modern, crisp illustrations ... practically jump off the page."
-- Publishers Weekly
---
"Staake's art is deceptive -- it looks simple, but one still finds new things in the illustrations after over a hundred readings."
-- BoingBoing.net
---
"Bob Staake's serendipitous story (The Red Lemon) charms all around, with its lively rhymes, its bright, sharp illustrations, and the final surprising twist. Staake has written and illustrated many critically acclaimed books for children and adults. His illustrations have appeared in Time, MAD Magazine, and the Washington Post, and his client list includes Children's Television Workshop, Nickelodeon, Disney, and Cartoon Network. That comes as no surprise to readers of The Red Lemon, where his crisp yet effervescent take on this tangy subject cannot fail to entice both the children and grownups lucky enough to have this tale burst open to them."
-- CurledUpKids.com
---