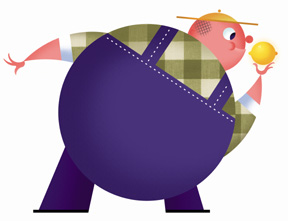 In every one of his books, children's author and illustrator Bob Staake tries to do something a little different, and that was certainly the case with The Red Lemon.
"Usually", said Staake from his studio on Cape Cod, "I'll sit down and write a story and sketch it out. Then I'll take the story and sketches to a publisher and they'll make suggestions and slight modications before agreeing to publish it. A publisher then gives me a certain amount of time to take those sketches and turn them into finished, colorful artwork, they pay what is called an 'advance' that enables him to work on the book and complete it before it is finally published and a year or two later, the book is on the shelves."
However, Staake did not work this way when creating The Red Lemon.
"I didn't do a single sketch for the book", says Staake, "and instead just wrote the poem and immediately started working on the color illustrations because I could see them in my head. I didn't show the book to anyone until I was completely finished. I wanted to do the book my way -- from cover to back -- so I spent about two weeks creating all the artwork. I didn't know if the book would actually be published or not, but I had my answer as soon as I completed it."
"I showed The Red Lemon to Diane Muldrow, my editor at Random House and she just loved the book -- and immediately offered to publish it."
But if a picture book is a balancing act between the words and the pictures, what came first in The Red Lemon when Staake say down to create it?
"The story almost always has to come first", said Staake, "but I worked very loosely on The Red Lemon allowing some of the artwork to alter elements in the story and having as much as possible during the process. If I wasn't please with the look of a scene in the book, I simply created a new illustration."
"There's no question that The Red Lemon is one of my books that I am most pleased with", asserts Staake, "because it is very true to my philosophy regarding children's literature; to teach a kid an enlightening lesson but doing so with humor (and hopefully) a little cleverness."
"I suppose there are many lessons to be learned in The Red Lemon, says Staake: "Don't be afraid of the unusual, embrace the uncommon, evolve or die. It's Framer McPhee's intolerance, fearful assumptions and lack of seeing the bigger picture that literally dooms his future. In the face of jarring change, children and adults must remain open-minded and tolerant or they may find their fears ushering in their own demise. The Red Lemon tries to teach readers that it is only through creative thought and vision that one can evolve. After all, when life serves you red lemons, the smart thing to do is to make red lemonade."
| | | |
| --- | --- | --- |
| | | Staake's original label for the lemon crates used by "Farmer McPhee Citrus Groves" incorporated a vintage illustration of a California fruit orchard (left) |
| | | |
| --- | --- | --- |
| | | The author / illustrator ultimately decided to change the name to McPhee Farms and dub his product "100% Yellow Perfection Lemons" (left) |