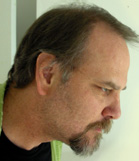 Known for his ecclectic sense of graphic design, Bob Staake's illustrations and images appear in everything from magazines to books, animation to greeting cards, advertising to newspapers, cereal boxes to CD-ROM games.
In a recent online interview, Drawn.ca suggested that "to say Bob Staake is just an illustrator is like saying 'The Beatles' were just a bunch of musicians; the title doesn't do the artist justice" and Publisher's Weekly commented that "Bob Staake's modern, crisp illustrations ... practically jump off the page"
His clients have included The New Yorker, TIME, McDonald's, American Express, Sony, United Airlines, Nickelodeon, Sports Illustrated For Kids, Ralston Purina, Hallmark Cards, Kenner Toys, The Washington Post, AT&T, Sega, TWA, Dr.Pepper, The Chicago Tribune, Good Humor, Warner Books, Kellogg's, Cartoon Network, Turner Broadcasting, The Wall Street Journal, Netscape, Forbes, Simon and Schuster, The Ren and Stimpy Show, MAD, USA Today, Children's Television Workshop, Blockbuster Video, The Walt Disney Company, Anheuser-Busch, Doubleday, Klutz Press, Hershey's, Target Stores, Miami Herald, Los Angeles Times, The New York Times, Fleishman-Hillard, DMBB, and countless others.
He has authored and/or illustrated over 40 books, including Headlines (written by Jay Leno, illustrated by Staake), The Complete Book Of Caricature and The Complete Book Of Humorous Art (both authored by Staake). The New York Times named Staake's The Red Lemon one of the 10 best illustrated books of 2006.
He lives and works in Chatham, Massachusetts in a 200-year-old house on the elbow of Cape Cod.
His website can be found at BobStaake.com