Summary:
In this simple poem with environmental themes, illustrated by award-winning artist Bob Staake, two young families in two very different parts of the world each plant a tree. As the trees flourish, so do the families . . . while trees all over the world help clean the air, enrich the soil, and give fruit and shade.

With a nod to Kenya's successful Green Belt Movement, Diane Muldrow's elegant text celebrates the life and hope that every tree-from Paris to Brooklyn to Tokyo-brings to our planet. Now in paperback, this book can be enjoyed by children in classrooms everywhere.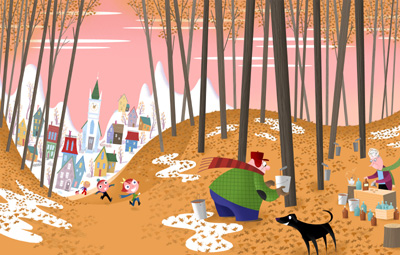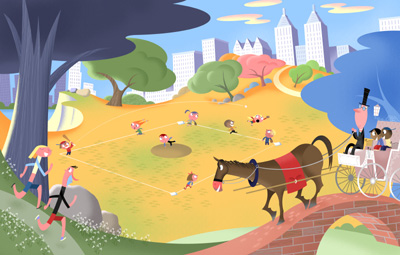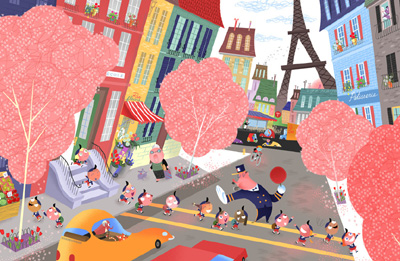 Sample images from book (above)
School Library Journal:
PreSchool-Grade 4-With a synergistic mesh of lyrical language and bright, expansive illustrations, this picture book enumerating the many benefits of trees is a winner. Muldrow's poetic text shapes beauty from simple observations: "The sunshine went into the buds,/And soon they burst open./Everywhere it was pink./And we were dizzy/With springtime." As the text describes the growth of the tree and the many benefits it provides (shade, clean air, fruit, sap, and holding the soil, among others), Staake's signature modernized cartoon-style illustrations circle the globe, showing families in New York, Vermont, Japan, Kenya, France, and Italy as they enjoy what the trees have to offer. Enjoyable and informative, this beautiful presentation of a clear ecological message is perfect for sharing on Earth Day, Arbor Day, or in ecology units.
Booklist:
A family in Brooklyn plants a tree in their small backyard; turn the page and a Kenyan family plants a tree on the bare African savannah. Then in Paris, Tokyo, and more places across the globe, each newly planted tree grows up, as the children in the family do. Muldrow weaves some science into the lines: "Sunshine went into the leaves / And brought food to the tree," and through the seasons, the trees grow beautiful pink blossoms, green leaves that help clean the air, and fruit, while their roots keep the soil from blowing away and provide a place for families to plant food. Illustrating the simple poetry are clean-lined digital illustrations that show the botany details and celebrate the connections between plants and people, present and long-term, across time and space, as each generation continues the conservation efforts and helps "heal the earth."