Summary:
Once upon a time, a man named Barack Obama ran for president of the United States and he won! On the night of his victory, he made a very important announcement: When he and his family were settled in their new home in Washington, D.C., his daughters would get . . . A PUPPY!
On a farm in Texas, a puppy had been born. One of ten brothers and sisters, this puppy was lively and smart, but he needed a new home.
From a Texas farm to the White House, this is the real story of Bo?the First Pup!
The First Pup is a 2011 Bank Street - Best Children's Book of the Year.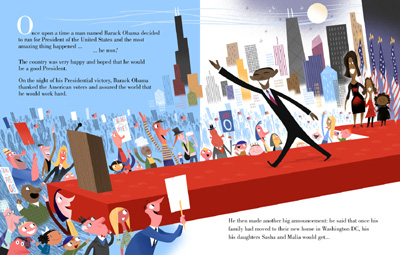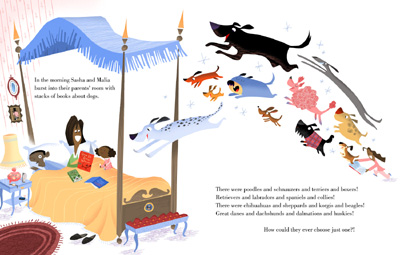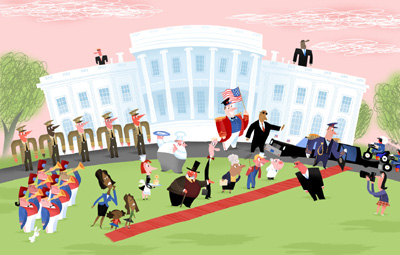 Sample image from book (above)
Publishers Weekly:
Staake's (Pets Go Pop!) welcome addition to the cache of Bo books offers an enthusiastic look at how the Portuguese water dog came to live at the White House. Neither as fact-driven as Carole Boston Weatherford's First Pooch nor as fanciful as Kate Feiffer's Which Puppy? this account is downright centrist by comparison, giving familiar and lesser-known particulars a whimsical bent. Kids will warm to the backstory of how the late Sen. Edward Kennedy acquired the puppy (a littermate of his own pet) for the Obamas. "When he learned that one of the litter of pups... had been returned to the farm and needed a second chance, he had a great idea...." Staake's stylized, angular illustrations take playful liberties with proportion and perspective, presenting caricatures of the first family, as well as Bo, White House staffers, and assorted fans. The canine's festive, red carpet arrival by limousine (complete with a sextet of buglers, a chef with a bone on a tray, and plenty of attentive Secret Service agents) is but one of the visual highlights in this exuberant tale. Ages 5-8.
"Delightfully illustrated." ­Travelforkids.com
"Staake writes energetically and illustrates exuberantly. His stylized drawings play with proportion, resulting in a pleasing retro perspective." ­The Cleveland Plain-Dealer
"In whimsical, antic illustrations, Staake shows us a busy White House filled with TV cameras, Secret Service and housekeeping staffBut what makes it all work is the wonderful energy of Staake's cartoon-like art and zippy text." ­San Francisco Chronicle
"Staake chronicles President Obama's 2008 victory speech and the ensuing media blitz surrounding the new puppy promised that night to his daughters . . . . one of the best versions of the tale so far."
­School Library Journal
"The spring of 2009 saw a host of First Dog books; this more mature work should win the vote." -Kirkus Reviews