Summary:
When Senor Sasquatch boards the bus, he makes one thing perfectly clear to driver: he doesn't like to be squished. But as the bus travels along its route, other passengers get on-like Miss Elephant Shark, Mr. Octo-Rhino and Miss Whale Goat! Soon senor Sasquatch finds himself at risk...of being squished!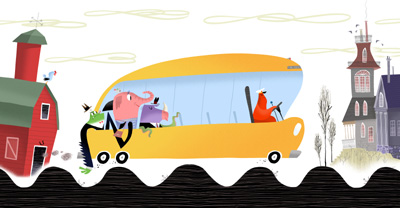 Sample image from book (above)
Publisher's Weekly
As the title suggests, unadulterated silliness is the raison d'etre for this collaboration between Staake (Look! A Book!) and TV writer and producer Redeker. (As the title also suggests: this sasquatch is gonna get squished.) The story begins with the tall, long-limbed Señor Sasquatch-sharply dressed in a black suit and fedora-climbing onto a bus piloted by the aptly named Mr. Blobule. "I hope it doesn't get too crowded," he tells the driver. "I do not like to get squished!" Sure enough, the bus fills up with one hybrid creature after another, each stranger than the last, until the bus explodes with a giant "ka-blooey" on a four-page foldout spread. Working in his characteristically exaggerated style, Staake fills the pages with details of urban life, while focusing on the yellow bus and its unusual passengers. Redeker's prose consists almost entirely of dialogue ("Of course you may ride my bus, Miss Loch-Ness-Monster-Space-Alien!"), as well as the repeated titular refrain, emphasizing that this is a book to be read aloud. Loudly. Ages 1­5.
If you liked this book, be sure to see Senor Sasquatch get squished in his first volume, Don't Splash The Sasquatch.