Summary:
When Senor Sasquatch decides to spend the day by the pool, he hopes that he doesn't get splashed. Water can make his fur all squizzilefied, and Senor Sasquatch does not like to be squizzilefied! But when the other swimmers take the plunge, Senor Sasquatch finds that staying dry is not so easy.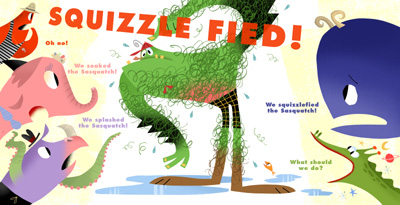 Sample image from book (above)
School Library Journal:

PreS-Gr 2-Señor Sasquatch wants to spend the day by the pool but doesn't want to get splashed. Water makes his fur "all squizzilefied." Miss Elephant Shark, Mr. Octo-Rhino, Miss Goat-Whale, and Miss Loch-Ness-Monster-Space-Alien ask to jump in the pool. Lifeguard Blobule allows them in but requests that they please not splash the Sasquatch. Of course, each one does. And Sasquatch gets squizzilefied. To help him recover, the friends spin, shimmy, and style him. He is so excited about his great new look that he has a splashy pool party to celebrate. The colorful, computer-generated cutout illustrations are fittingly playful and bright. Characters have wonderfully exaggerated facial expressions. VERDICT The plot may not be groundbreaking, but readers will have too much fun to care. A super summertime selection sure to make a splash.-Amelia Jenkins, Juneau Public Library, AK
Kirkus Reviews:
Pure, disarming horseplay served on a bed of charismatic artwork.
If you liked this book, be sure to see Senor Sasquatch get squished in his first volume, Don't Squish The Sasquatch.