Summary:
The bestselling Little Golden Book all about robots!

Robots are everywhere in this bright and funny board book ­ and preschoolers are going to love it! Whether up in space, beneath the seas, or even under couches, award-winning illustrator Bob Staake's bold and colorful bots make this book a must have.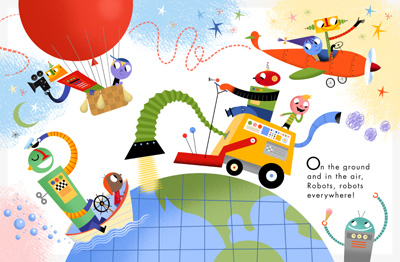 Sample image from book (above)
Children's Literature:
Simple drawings in bright primary colors are the highlight of this delightful book about robots. The basic premise of the book, communicated in very simple yet lively language, is to point out all of the surprising places in which we find robots in our everyday lives. Young readers will find a lot to see on each page of the book, and caregivers can use this as a way to introduce new vocabulary as they discuss the images of spaceships, planets, coral reefs and more. Children may be able to read the book two or three times and still find something new in the illustrations. In addition to displaying existing robots such as toys and vacuum cleaners, the book shows humanoid robots and robot dogs, thus encouraging the reader to imagine future uses for robots. Reviewer: Carol Mitchell; Ages 3 to 5.