Summary:
A young boy has his heart set on a brand-new toy fire truck, so he is disappointed when he gets his grandfather's rusty old fire truck, Red, instead. But working together, the boy and his grandfather patch Red right up while Grandpa tells his grandson all about the adventures he had with Red when he was a boy.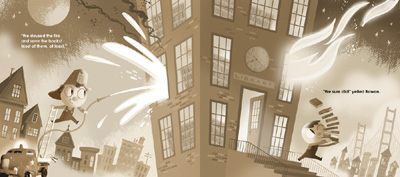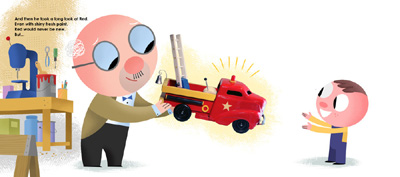 Sample images from book (above)
Publisher's Weekly

*Starred Review* It's Rowan's birthday, and he yearns for a shiny new toy fire truck. Instead, he gets Red, a worse-for-wear truck that belonged to his grandfather. "Trust me, Ro," Papa says. "We'll fix up Red better than new." As Papa starts on the Red rehab, he tells Rowan stories of his pretend adventures with the truck. These escapades--rendered in sepia tones and operatic emotions, and "projected" like a silent film--are so vivid that during the final story, Rowan imagines being pulled into the action, riding along with a young Papa to save the town library. Even though "Red would never be new," what kid wouldn't want a truck with as many accomplishments as Red? De Sève (Peanut and Fifi Have a Ball) and Staake (My Pet Book) are an inspired pairing, and the brisk storytelling and funny segues ("That cat was nearly as strong as the elephants," says Papa, effortlessly launching into another tale) give the graphic, posterlike images a deep warmth and narrative energy. Clearly Rowan isn't the only one swept away by Papa's tale.