Summary:
Speedy Pet
Tall Pet
Hairy Pet
Small Pet
Pets from around the planet come to three-dimensional life in this bold and innovative follow-up to TRUCKS GO POP
Kids will love the wide range of hilarious animals that appear in unexpected scenarios, form a card-playing ape, and a jazz-loving lion, to a fearless pilot rhino-with a few more typical household pets sprinkled throughout There's even a grand pop-up finale with all of the animals humorously brought together on their bus ride to school. The rollicking ending is bound to surprise and delight every animal and pet lover alike
With sturdy but dramatic paper engineering and clever, vibrant illustrations by award-winning artist Bob Staake, PETS GO POP will take kids on an unforgettable pet-popping romp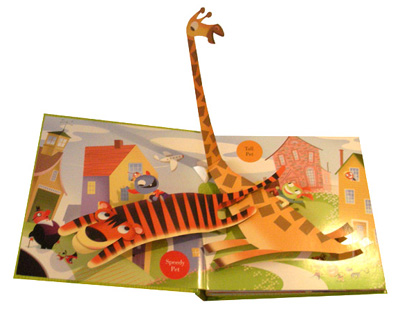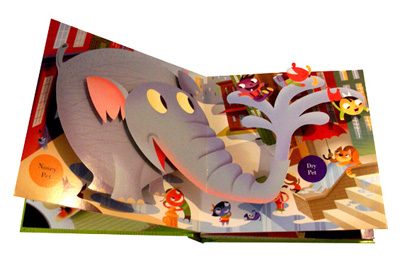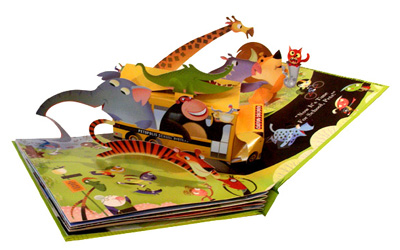 Sample images from book (above)
Amazon Customer Review:
As a children's librarian, I had a love/hate relationship with pop-up books. I loved them because they were fantastically cool, so cool that kids always wanted to check them out, which was great. What I didn't like was how quickly the ones that were for circulation fell apart, or even worse, some of the more elaborate pop-up books were turned into reference books and could not be checked out at all. As a children's librarian, pop-up books frustrated me. Now, however, I buy books as a mother, and I just love pop-up books.
As much as I want to jump in and write about the mechanics of Pets Go Pop!, I'll stick to my formula and write about the text first. The text is simple and it works. I don't buy pop-up books for the writing, so if is at all amusing, I am happy. And I am happy.
In general, the only way that Bob Staake's artwork could possibly be improved would be to make it 3D, like a pop-up book, like Pets Go Pop! The engineering of this book is beyond amazing. My husband is an engineer and mechanics of this book fascinated and baffled him. He kept opening and closing the book to see how everything fit together until my son had enough and took the book back. My son doesn't yet appreciate engineering; he just loves the way the crazy, colorful animals jump off of the page every time he opens the book. So far, this book has stood up to my Tornado Thomas. That also makes me happy.
And the poster that comes with this book? I would have bought this book solely for that poster. It's awesome.