Summary:
LOOK!
A boot!
A fruit!
A crossing guard newt!
Once AGAIN a seek-and-find,
MORE images of every kind!
From a music note to a teeny red boat, a blue kangaroo to a robot or two, there are endless things to discover in this zany follow-up to Look! A Book! from award-winning artist Bob Staake. Die cuts on the cover and every spread reveal hidden treasures in each vast landscape, from a zoo gone wild to an out-of-this-world moon base to a crazy art museum, and more, providing hours of entertainment to readers young and old.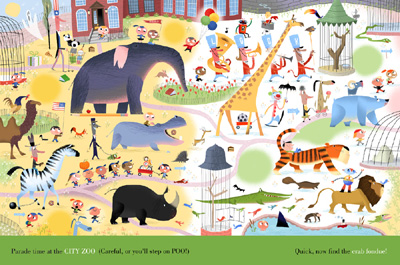 Sample image from book (above)
Publishers Weekly
An all-you-can-eat buffet of images greet readers in Staake's interactive seek-and-find book, a companion to Look! A Book! (2010). Die-cut circles provide sneak peeks of objects on the preceding and following pages ("Look! A chair! A pear! A miniature bear! A skunk! A trunk! A UFO punk!"), connecting wildly diverse spreads that visit urban, spooky, and even extraterrestrial settings. The happily hectic scenes brim with irreverent details. A zoo ("areful, or you'll step on poo!/ Quick! Now find the crab fondue!") features a ghost, robot, and a monster on a leash who join a tiger, in addition to the usual animal suspects, while modern art masterpieces creep out of their frames at a museum. Staake's enthusiastic verse is contagious in a book that promises hours of offbeat entertainment. All ages.
Kirkus Reviews
The energetic sequel to Look! A Book! (2011) picks up just where the last one ended. With the same welcoming die cuts and sparkling graphic style, Staake's creativity and humor are front and center here. From the opening pages, readers know what's to come. "Now open up this crazy book, / grab a seat-and have a LOOK!" Readers will take a lot more than just one look at these absorbing pages. The solid-colored pages are graced with small die cuts that reveal little tidbits of the busy scenes hiding on the following spreads. Sometimes the page turns make the images blend seamlessly into the busy new scene in a pleasing way, allowing readers to wonder how the illustrator pulled that little magic trick. The die cuts themselves also seem to disappear with the page turn, leading readers to touch the pages to find the circles and to prove that they are still there. Each scene is a familiar one, but closer inspection reveals surprising details. On the school page, a sasquatch cavorts on the playground, an alligator acts as crossing guard, and a one-eyed green monster peeks around the schoolhouse. Art lovers will love the very hip museum scene, filled with familiar, iconic images. Even the copyright page has an inside joke for the careful observer. The jaunty rhyme and easy-to-decode words make this a perfect choice for the new reader.
School Library Journal
PreS-Gr 2-This noteworthy sequel has many similarities to Look! A Book! (Little, Brown, 2011): bright, colorful pages with very little wording and cutouts that highlight what is on the next page, spreads of intricate cartoonlike drawings, and Staake's everlasting creativity. The author's use of language conjures up delightful imagery: how about "a fish reading mail" or a "crossing guard newt"? Look! Another Book! is a puzzle and a poem in one. Staake's whimsical text challenges readers to find objects in the pictures, and the book concludes with a giant foldout rocket. There are fun references for adults, too (look for the Bukowski Delicatessen or the Honeybaked Haggis store). Guaranteed to become a favorite among children.-Mary Cass Mabbot, Indianapolis Public Library