Summary:
It's not just a truck ­ it's a MONSTER TRUCK ­ and preschoolers are going to love it! Featuring the bright and bold artwork of award-winning illustrator Bob Staake, truck fans everywhere can start their engines and ride along with Mudenstein and his mammoth machine friends for all of their crashing, smashing fun in this high-octane adventure!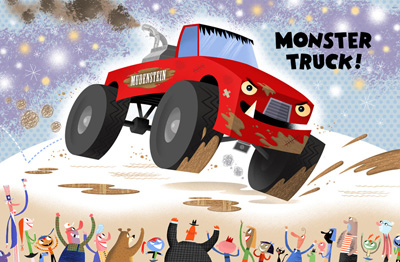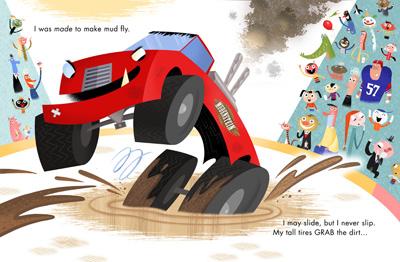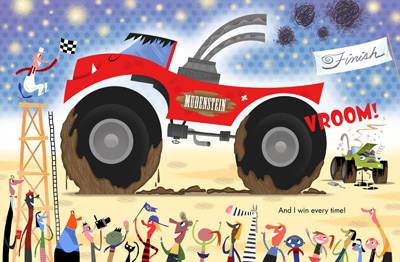 Sample images from book (above)
Customer Reviews:
"My 2 and a half year old son LOVES this book. He insists I read it to him every night before bed. Only recently did he start reciting the lines from the book word-for-word to me. He can even say "Carcharodontosaurus". He loves the illustrations too. I, personally, am sick to death of reading it. But his enjoyment of it is what matters the most. We have a ridiculous collection of little golden books (literally hundreds), but this book and another LGB classic "Let's Go Trucks" are his TWO go-to books every night. I highly recommend for the little ones."
"I have this book memorized. I read it with my grandson at least 15+ times a day. The pictures are great. We look for all the "kitty-cats" and odd characters in the Monster Truck staduim seats."
"Super cute read for little Monster Truck enthusiasts!!! A proud little monster truck is the star of the show and this book. Fun stuff!! House favorite bed time story!"