Summary:
Dogs, dogs, dogs. I love dogs! Bestselling author Sue Stainton and bestselling illustrator Bob Staake come together to tell of a rambunctious boy's journey through the park on his way to adopt the pet of his dreams-a dog, of course!
The short, upbeat, rhyming text and vibrant illustrations make I Love Dogs! perfect for reading aloud to the youngest of dog enthusiasts, but this gem makes a great gift for anyone-of any age or breed-who has ever wanted to shout to the world, "I Love Dogs!"
With lazy dogs and crazy dogs, yappy dogs and happy dogs, dogs in the park and dogs that bark, dog lovers will surely want to come back for more, and there's plenty to discover in the detailed illustrations on a second, third, or even fiftieth read.
Dog lovers who enjoyed reading Dr. Seuss's Go, Dog, Go!, Bob Staake's My Pet Book, or Patricia MacLachlan and Emily MacLachlan Charest's I Didn't Do It will certainly want to add this doggone fabulous read to their library shelves!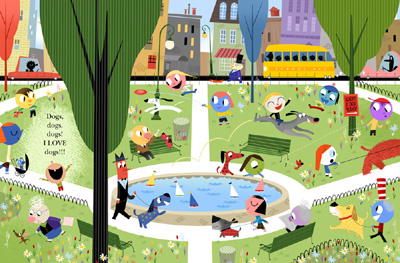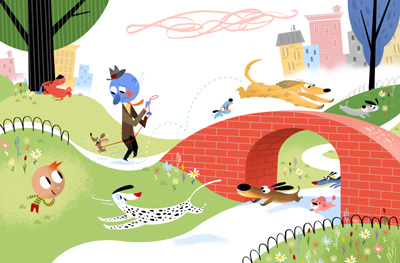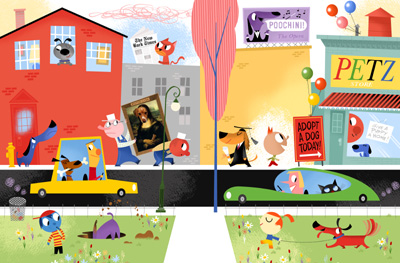 Sample image from book (above)
ALA Booklist:
"Simple verse and comic cartoons combine to celebrate a bounding, boundless variety of dogdom. Individual viewers will pore over this-and storytime audiences will roar! Dog-lovers rejoice!"
Kirkus Reviews:
"Pleasing pups and a vibrant illustration style make this a cheery story for preschoolers or for children just beginning to read on their own."
School Library Journal:
"Staake's dynamic digital illustrations add energy and humor to the rhyming text. Each spread depicts a number of pups enjoying a romp in the park. All of the canines are bursting with unique personality and their owners are just as diverse as their pets. "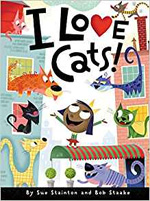 More of a CAT lover? You're in luck!