Summary:
Cat lovers of all ages will revel in this delightful ode to feline friends!
By bestselling author-illustrator duo Sue Stainton and Bob Staake, this companion to the wildly popular I Love Dogs! is full of hairy cats and scaredy cats, dancing cats and prancing cats-all of them ready to steal your heart through vibrant illustrations and energetic text.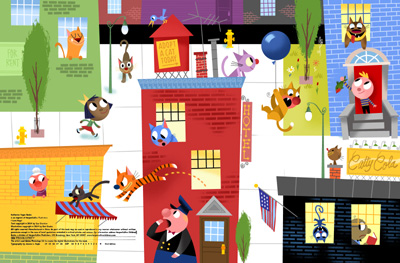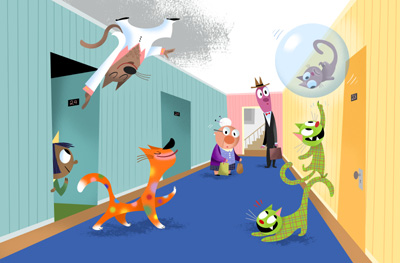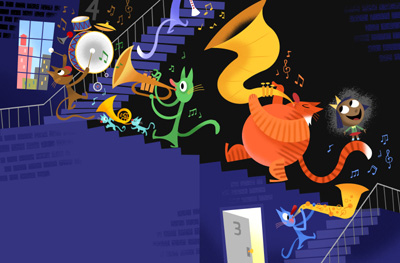 Sample images from book (above)
Booklist:
Staake's cartoon characters are all eyes, and the raucous illustrations add energy to the story while the simple-to-grasp text encourages participation from young readers. The cats themselves, depicted in bright, unexpected hues, absolutely steal the show, while our unnamed brown-skinned heroine, happily along for the ride, often peeks around corners or from windows. This is a celebration of felines with a subtle adoption message.
School Library Journal:
Cat lovers unite! Those who adore feline friends will rejoice in this whimsical title for young children. There is not much in way of a plot, as the purpose is more for decoding words and objects (think One Fish, Two Fish, Red Fish, Blue Fish by Dr. Seuss), but who cares! Staake has a deft touch for creating expressive and animated cats, favorites including the "scaredy cats," "prancing cats," and "snuggling cats."
Kirkus Reviews:
British author Stainton follows her I Love Dogs! (2014) with the obligatory companion for the kitty cat set. Staake teams with her again to provide the bright, digitally created, full-bleed cartoon illustrations of green and red and spotted (and plaid!) cats enacting the little girl's rhymed paean to pusses. The frenetically goofy visual narrative ends with her parents handing her a little, gray kitten of her very own. Feline fanatics will happily chant along.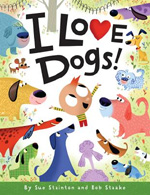 More of a DOG lover? You're in luck!