Summary:
Buckle up for an exuberant ride humming with energetic rhymes and whimsical, retro art from a masterful team.
Black car, green car,
nice car, mean car.
Near car, far car.
Whoa Bizarre car
Ready to hit the road? Gear up for a nonstop parade of shapes, sizes, sounds, and even smells in a wild array of cars packed with big personalities, awesome features, and eccentric passengers. Driven by Peter Stein's bouncing verse, Bob Staake's high-powered artwork merges vibrant color and crisp, dynamic design with humor, warmth, and whimsy. This rousing excursion is sure to thrill all fans of things that go, as well as aficionados of the illustrator's signature style.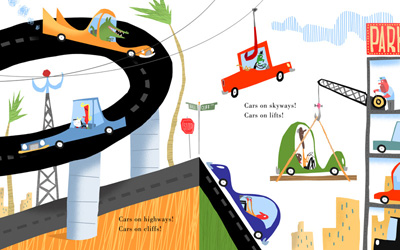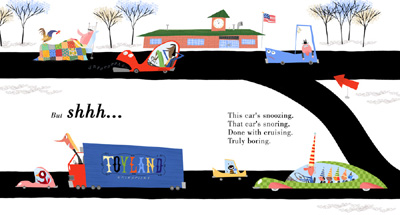 Sample image from book (above)
School Library Journal:
PreS-Gr 1-Rhythmic verse and lively illustrations showcase autos of every color, size, style, and speed. "Cars and cars and/ yet still MORE cars!/Millions, billions, cars-GALORE cars!" Just when readers think there couldn't be any more variations, the text revs up with a new characteristic or action. The rhyme, similar to Patricia Hubbell's Cars: Rushing! Honking! Zooming! (Marshall Cavendish, 2006), cruises smoothly for the most part, changing from slow to fast lane with only a few bumps. The illustrator's familiar cartoon style easily matches the text. Crisp, clean lines and bright colors pop against the white background, while black traffic-filled roads crisscross and loop around the pages. Readers will eagerly search for and find every vehicle mentioned. Car-crazy kids will appreciate both the rhyme and the pictures.
Kirkus Reviews:
A wacky roadway of discovery awaits readers in Stein and Staake's affectionate tribute to the automobile and its infinite design possibilities. With Seusslike rhymes and silliness, they create a world of diverse vehicles, each an extension of its owner and an expression of individuality. Comical cars zoom by with playful text in tow: "Rusty, dusty, / hunk-of-junk car. / Stinky, yucky, / smells-like-a-skunk car." Staake anchors most illustrations with a black, energetic roadway full of merges, curves, loops and angles. Each spread contains an intriguing pattern, offering new objects for discovery with each turn of the page. Auto-lovers will adore his whimsical illustrations-done in a '50s modern design aesthetic-of tractors, tow trucks, race and rocket cars, and all will find humor in his expressive characters. His sense of fun extends beyond fanciful car designs; readers will love spotting the occasional alligator, giraffe or rhino behind the wheel. The eminently chantable text will likely make this a fast favorite with lovers of things that go, so be ready for many round trips. One bright and lively ride. (Picture book. 3-6)
School Library Journal:
The wackiest picture book in the last ten years.