Summary:
Truck-loving preschoolers will love this charming, busy bulldozer hero!

"Push" McCallahan is a hardworking bulldozer who's on the construction site before the other big work machines have had their first cup of morning diesel. After he's finished moving dirt and rock, it's off to build a road, help fight fires, and pull up some tree stumps at the farm! It's all in a day's work for this tough-but-lovable earthmover, brought to life by popular Little Golden Book illustrator Bob Staake.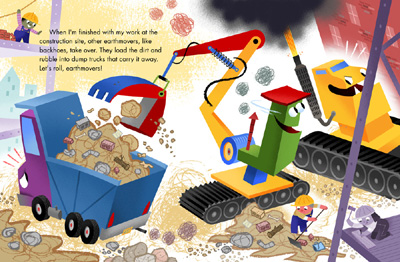 Sample image from book (above)
Amazon Customer Comments:

"Probably one of the greatest literary reads of our day and age ... illustrations are impeccable and precise exceeding expectations. My three year-old grandson gives it a double thumbs up!"
"Our two year old grandson loves this book! He loves the pictures and the simple story line. Golden books are the best...great size for little hands...and just the right amount of story for a little ones attention span."
"I have to admit this is one of my favorite books to read the grandsons. Cute story and it is short enough we can read it a couple of times which is what the boys like."