Summary:
From the inspired team behind Cars Galore comes a new read-aloud buzzing with nonstop rhymes and swarming with comical retro illustrations.
Bugs, bugs, BUGS galore creep, slither, stink, and squirm; scurry, fly - ewww, a worm! Dig in as a flurry of bugs of every shape, size, and color crawl across the page in a veritable infestation of whimsy and humor. Cars Galore creators Peter Stein and Bob Staake return to thrill (and gross out) bug enthusiasts of all ages, offering an in-the-dirt, high-in-the-sky critter tale sure to leave readers wiggling and stampeding for more.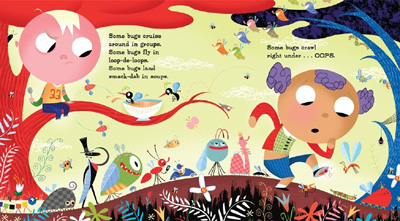 Sample images from book (above)
Publishers Weekly
An energetic ode to insects in a style that's Dr. Seuss meets Hieronymus Bosch... The madcap cartoons create an atmosphere that feels almost interplanetary, playing up the alien nature (and the diversity) of the insect world.

School Library Journal
With bouncing rhyme and illustrations that demand multiple viewings, Bugs Galore is a rollicking celebration of all things creepy-crawly. This highly successful collaboration shows how well text and artwork can add up to something more... The main action is always clear and bold, but each spread features dozens of bugs with individual details, expressions, and actions. Kids will love identifying the little creatures specified in the text and discovering other stories through the pictures.