"Pure gold."
-- School Library Journal
"Readers of all ages and backgrounds will love every inch of The Book of Gold. You might be tempted to turn over the bookshelves and find that mysterious book. But then again, maybe you've already found it."
-- BookPage.com
"No one has done such an excellent job of capturing the feeling of discovery and the wonder of reading as Bob Staake has in The Book of Gold. This is a must-have for all book lovers, young and old."
-- American Booksellers Association (BookWeb.org)

Summary:
Award-winning illustrator Bob Staake (Bluebird and The Red Lemon) brings us an emotionally rich picture book about a boy who discovers that the search for knowledge is more important than knowledge itself.
Young Isaac Gutenberg isn't a curious boy . . . that is, until he meets an old shopkeeper who tells him about The Book of Gold. This special book, hidden somewhere in the world, holds all the answers to every question and turns to solid gold when opened.

Isaac is determined to find the book-it will make him rich! He opens many books in his search, but quickly closes them when they don't turn to gold. That changes one day when he opens a book, looks at the page, and a question pops into his mind. From then on, he reads every word.

Time passes and Isaac ages, but he still scours dusty attics and flea markets, crisscrossing the world, searching for The Book of Gold. This sweeping picture book asks important questions: Is searching for knowledge better than having it? How important is curiosity? And what makes a life meaningful?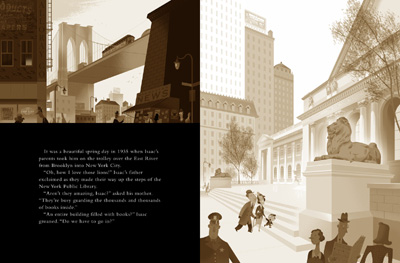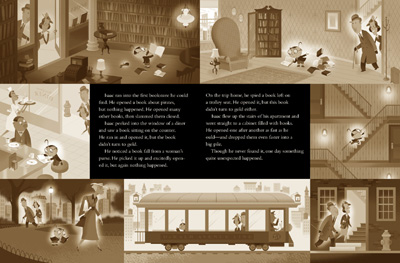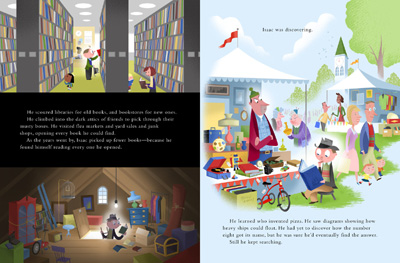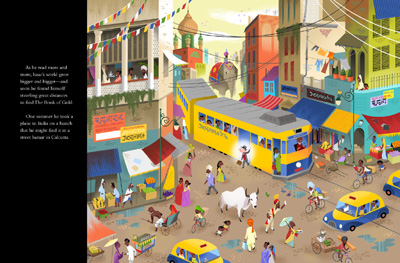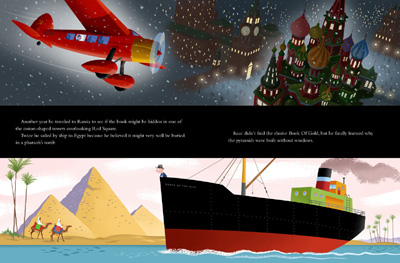 Sample images from book (above)
BookPage
"Right off the shelf, Bob Staake's The Book of Gold shimmers with promise; the lions of the New York Public Library beckon, and you just know something fantastic awaits.
In muted sepia tones of a vaguely bygone era (trolleys, bowler hats), we first meet Isaac. Everything bores Isaac, despite living in one of the most exciting cities in the world with parents who try desperately to pique his interest. When a shopkeeper sets him on a mission to find The Book of Gold, Isaac starts in Brooklyn, determined to be the book's discoverer. At the onset, he is merely interested in the promised riches, but the book proves enigmatic and well hidden, and it's only a matter of time before Isaac begins to actually read the books he examines. We leave the sepia tones behind as Isaac ages and his quest takes him around the world. Will he discover the truth that all readers know?
Renowned author/illustrator Bob Staake writes with the heart of a true book lover, but illustrates with an equally strong and passionate eye. Staake's round, expressive characters feel slightly old-fashioned-you might just as easily find them in a picture book from the '50s-but not at all outdated. Brooklyn and Manhattan bustle and burst with detail, interesting sights and people in every direction.
Readers of all ages and backgrounds will love every inch of The Book of Gold. You might be tempted to turn over the bookshelves and find that mysterious book. But then again, maybe you've already found it."
Publisher's Weekly
"Staake (Beachy and Me) places Isaac in a series of magnificent architectural spaces teeming with detail, including many inside and outside the famous library (whose two lions, Isaac eventually discovers, are called Patience and Fortitude). Sepia-toned illustrations reflect the book's initial 1930s setting, giving way to color as Isaac awakens to the potential of books over the course of many decades."
School Library Journal
Try as they might, Isaac Gutenberg's parents could not interest him in anything, particularly not books or the New York Public Library, not even the iconic lions. It is an antiques shopkeeper who transforms his boredom by recounting the legend of "The Book of Gold": "Somewhere in the world there is one very special book that's just waiting to be discovered...and when it is opened, it turns to solid gold. This is all the motivation Isaac needs to begin the quest that would take him to his twilight years, leading to many opened books, questions, answers, travel, and, ultimately, a full circle as he passes the legend on to another bored child in the library. Staake's round-headed, diverse caricatures start their sepia-hued story in 1930s Brooklyn. Digitally composed panels and compositions of varying sizes eventually blossom into full color as books enrich Isaac's world; they turn golden at the conclusion. White text on black backgrounds provides unity throughout. As with William Joyce's The Fantastic Flying Books of Mr. Morris Lessmore, it is the caliber of the artistry that elevates what could have been just another book about books (a crowded shelf), because, of course, it is the delightful dance of words and images in a riveting narrative that creates young bibliophiles, not attempts to persuade. VERDICT While this title will especially appeal to adult book aficionados (and New Yorkers), Staake's depth of visual detail, child-friendly style, and the originality of his questions will attract discriminating children as well. Pure gold.­Wendy Lukehart, District of Columbia Public Library
Reader Reviews From GoodReads.com
"Gorgeous illustrations and a powerful message combine to make this a great read aloud for librarians, teachers, parents ... any adult who wants to instill a child with the joy of curiosity and the quest for knowledge."
"I've been following Staake's work since the beginning and his graphic style is amazing and his narrative stories can be fun and dramatic. The Book of Gold ... (is a) beautiful book that celebrates the power of inquiry and learning and reading.

"Very few, if any, children's books leave me feeling super emotional. This one did!"
"(My daughter) Sara said, "It's like a Pixar film!" and she's right!"
"A beautiful story that takes a young boy a life of apathy to a lover of learning, all in the quest for the elusive Book of Gold. What he gets instead is a rich life full of knowledge and travel."