Summary:
Political analyst and Democratic campaign veteran Mark Hannah and renowned New Yorker illustrator Bob Staake give Barack Obama the victory lap he deserves in this compendium that takes the president's critics head-on and celebrates the president's many underappreciated triumphs...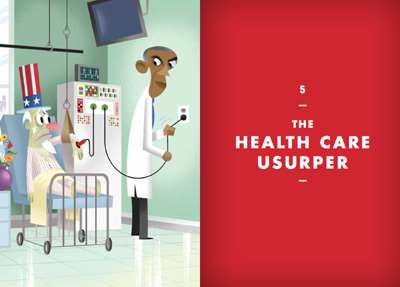 Sample image from book (above)
Kirkus Reviews
2016-04-06
Barack Obama: dictator; secret Muslim; al-Qaida operative. If you've heard this sort of thing and want to argue against it, political consultant Hannah offers a useful primer.It's a useful thing indeed to have a compendium of opposition charges about, say, Obamacare being "an unmitigated disaster" or Benghazi being the modern Watergate and responses to them, especially since the Obama administration has seemed so uninterested in advancing those responses on its own hook. Hannah, a specialist in message-crafting, looks in turn at the usual conservative charges, beginning with the overarching first premise: namely, that Obama is a dictator, inclined to go it alone without the advice and consent of Congress and independent of reference to the Constitution. Nonsense, Hannah writes, even though "this line of argument actually [has begun] to resonate with the American people," having been repeated ad infinitum on Fox News.