Summary:
Bob Staake's tale of a whale of a friendship!

Something big had come ashore. It seemed to have a tail.
Pixie now was staring at . . . a giant washed-up whale!

Pixie Picklespeare lives on a tiny island where there's no one to play with . . . until a friendly whale washes ashore. With Pixie's help (sort of), Beachy is soon back in the water, where the two play marvelous games. However, Beachy knows he must migrate to be with other whales. As he disappears into the deep, Pixie feels that she's lost her dear friend forever. But when he returns months later, Pixie learns that at special times of the year, she and Beachy will be together again!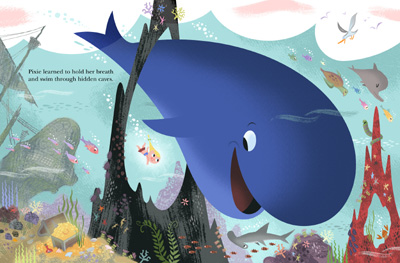 Sample image from book (above)
Publishers Weekly

February 22, 2016
"A characteristically Staake salute to mid-20th-century cartoon art . . . Staake's adventure offers eye-popping color, a wealth of sea life, and the entrancing vision of a companion who appears intimidating but is actually as devoted as a puppy."

Booklist,

April 1, 2016:
"Staake's signature digital illustrations boast a summery array of colors . . . As the rhyming text bounces evenly along, young readers will be swept away by this whale of a friendship tale."