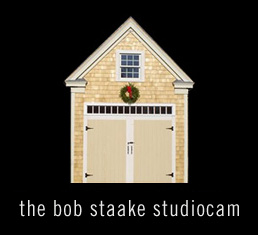 If you've ever been to Chatham, Massachusetts then you've no doubt checked out its world famous Cape Cod lighthouse -- and if you've done that, then you've passed right by Bob's studio.
The studio occupies the site of a small barn that sat on the property for almost 100 years. This new building was designed by Bob in 2006 and in March of 2008, something was pointed out of the transom window -- a webcam.
The camera is aimed at the intersection of Shore Road and Main Street, so the next time you pass by, be sure to wave -- and in the meantime, take a look at the real-time view from the studio.